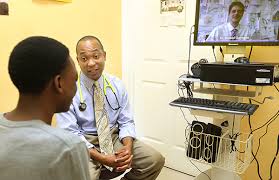 Caffery LJ1, Farjian M2, Smith AC3.
Abstract from PubMed
We undertook a scoping review of the published literature to identify and summarise key findings on the telehealth interventions that influence waiting times or waiting lists for specialist outpatient services. In this report, searches were conducted to determine relevant articles. In this review articles were included if the telehealth intervention restructured or made the referral process more efficient. We excluded studies that directly increased capacity. Two categories of interventions are – electronic consultations and image-based triage. Electronic consultations are asynchronous, text-based provider-to-provider consultations. Electronic consultations have been reported to obviate the need for face-to-face appointments between the patient and the specialist in between 34-92% of cases. However, electronic consultations are appropriate in less than 10% of referrals for outpatient care. Image-based triage has been used successfully to reduce unnecessary or inappropriate referrals and was used most often in dermatology, ophthalmology, and otolaryngology (ENT). Reported reduction rates for face-to-face appointments by specialty were: dermatology 38-88%, ophthalmology 16-48% and ENT 89%. Image-based triage can be twice as efficient as non-image based triage in reducing additional appointments.
Telehealth interventions can be used to reduce waiting lists and improve the coordination of specialist services.
Posted by:
C3O Telemedicine News
Posted on:
October 1st, 2016
Posted in: