One story which neve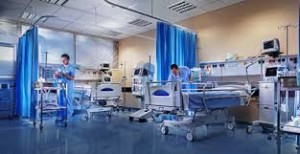 r made the mainstream press is  the humanitarian gesture of a group of ICU Telemedicine specialists providing civilian ICU care in war-torn Syria. Reported in the February issue of the Annals of American Thoracic Surgery, a network of approximately 20 participating intensivists was providing clinical decision support 24 hours per day to five civilian ICUs in Syria. The program utilized inexpensive, off-the-shelf video cameras, free social media applications, and a volunteer network of Arabic-speaking intensivists in North America and Europe. Launched in 2012 and within 1 year, 90 patients per month in three ICUs were receiving tele-ICU services. What would normally take numerous committee meetings including budgetary constraints was done on an all volunteer basis at a much lower than expected cost.
The program is implementing a cloud-based electronic medical record for physician documentation and a medication administration record for nurses. There are virtual chat rooms for patient rounds, radiology review, and trainee teaching. The early success of the program shows how a small number of committed physicians can use inexpensive equipment spawned by the Internet revolution to support from afar civilian health care delivery in a high-conflict country.
The critical care community and the world will be waiting to see data from this extraordinary and courageous endeavor. Congratulations to Drs. Moughrabieh and Weinert from the University of Minnesota Medical School, Minneapolis, Minnesota.
Posted by: hrogove
Posted on: February 8th, 2016
Posted in: